ROBUST AND CHUNKY
THE FORD RANGER BY CARLEX DESIGN
Exterieur
Der Ford Ranger Carlex Design ist eine völlig neue Version dieses zuverlässigen Pickups, die Geländeoptik, eine massive Karosserielinie und einen komfortablen Innenraum in sich vereint. Die äußeren Modifikationen an diesem Ranger verleihen dem Pickup einen ganz anderen Charakter. Der schwere, aggressive Stoßfänger und die massiven Radkästen sorgen dafür, dass dieses Fahrzeug auf der Straße mit Sicherheit nicht unbemerkt bleibt! Das Bodykit ist mit einerLine-X-Beschichtung versehen, die es bei sportlichen Geländefahrten gegen Beschädigungen schützt. Ergänzt wird das Außendesign durch dynamische aufgeklebte Elemente an den Seiten und an der Rückseite des Fahrzeugs sowie durch die modernen 18-Zoll-Felgen, auf denen das Fahrzeug thront.
Exterior styling
The front bumper has been partly painted black matt. Painting in the car's body colour is available as an option. The exterior styling of the car has been marked with a fancy sticker pack and Carlex Design emblems.
Off-road-Accessoires
Auch an einer Reihe attraktiver Accessoires mangelt es nicht – die höhere Bodenfreiheit, die Schutzbügel an der Ladefläche, die mächtigen Trittbretter, der stilvolle Fahrradträger oder die Off-Road-Scheinwerfer auf dem Dach sind nur einige davon.
Innenraum
Auch der Innenraum des Rangers erhielt ein völlig neues Gesicht. Das komfortable, in dunklen Tönen gehaltene Innere des Fahrzeugs wird nun von einer Kombination aus Off-Road-Atmosphäre und sportlichen Akzenten geprägt. Die Vordersitze wurden in einem sportlichen Stil modifiziert und mit Steppungen und Prägungen in Off-Road-Ästhetik dekoriert, die den besonderen Charakter dieser Edition unterstreichen. Außerdem ist das stilvolle Innere des Fahrzeugs jetzt noch komfortabler – durch die Polsterung, die präzise aus hochwertigem Leder und original-italienischem Alcantara gefertigt wurde.
Lenkrad & stilvolle Matten
Das modifizierte, mit Nappaleder bezogene Lenkrad macht Lust aufs Fahren und sorgt dafür, dass sich dieses Fahrzeug so komfortabel und aufregend lenken lässt wie noch nie. Ergänzt wird der Innenraum durch Gummimatten mit Designer-Prägungen.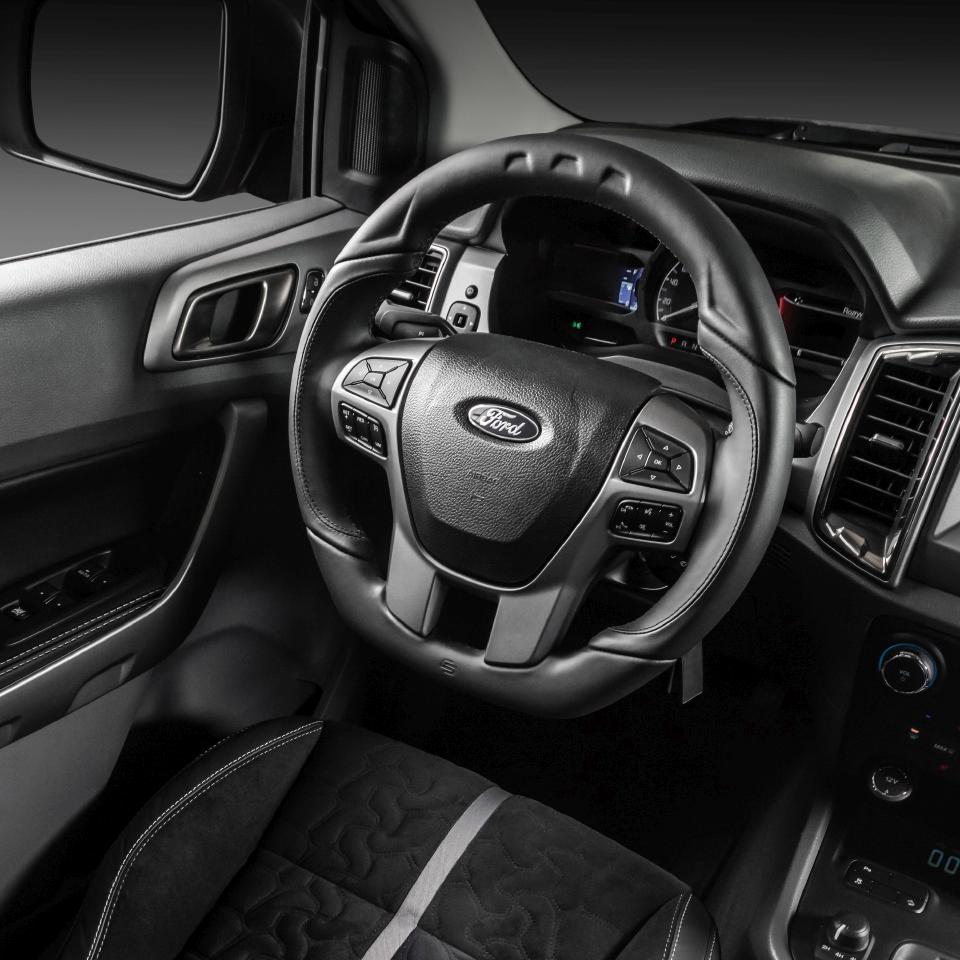 Umrüstung
Ranger limited edition package
Body kit (coated with black Line-X):
front bumper with CD logo, front bumper covers (painted black matt), bonnet lip, front arch, extensions, rear arch extensions, grille mesh set, Carlex Design aluminium engine guard (unpainted)
Exterior styling package
Carlex Design Terrain side steps (coated with Line-X)
18" Carlex Design alloy rims (4 pcs.)
BF Goodrich All Terrain 265/60 R18 tyres (4 pcs.)
Reshaping of the front seats
Carlex Design Sport upholstery (front seats, rear seats)
Reshaping and leather-trimming of the steering wheel
Rubber floor mats
Limited edition plaque
Universal tyre repair kit (compressor + sealant)
Options
Rear spoiler (coated with black Line-X)
Change for BF Goodrich All Terrain 265/65 R18 tyres (4 pcs.)
Electronic speedometer correction tool (for 265/65 R18 tyres)
Tyre pressure sensors (4 pcs.)
Pedders Suspension Lift Kit (shock absorbers, coil springs, leaf springs)
Eibach Suspension Lift Kit (coil springs)
Painting of selected parts of the front bumper and covers to match the car body colour
Coating of wing mirrors with Line-X
Coating of rear bumper quarters with Line-X
Accessories
Carlex Design StyleRack electric bike carrier
rails for two bikes, black powder-coated, third brake light
Carlex Design StyleRack electric bike carrier
rails for two bikes, black powder-coated + selected parts coated with Line-X,
third brake light
Additional Thule 598 bike rail for StyleRack
Carlex Design StyleBar Extreme truck bed bar
black Line-X, C-channel fitting, third brake light
Lazer LED Standard lamps (compatible with StyleBar Extreme)
Lazer LED Elite lamps (compatible with StyleBar Extreme)
Tessera 4x4 roller shutter:
compatible with StyleBar Extreme and StyleRack bike carrier
Lazer roof LED lamp Linear series with brackets:
15750 lumens with ECE approved for on-road use
Lazer roof LED lamp Triple-R 24 with brackets:
24600 lumens, off-road use
V8 Exhaust Sound System (application-controlled)
Brink towbar with wires
Additional Services
Coating of the tonneau with Line-X
Coating of the body with Xpel paint protection (standard)
Preis ab: 12,995.00 EUR NET
BESTELLEN ODER MEHR ERFAHREN
JETZT ANRUFEN
Sprechen Sie mit einem unserer Verkaufsberater:
Tomasz Krawczyk