CUSTOM X
FINAL EDITION
The Sporty Style
Our stylish and sporty exterior conversion and unique interior will give your Transit an expressive character.
Each vehicle will feature a Limited Edition plaque with an individual number.
BEFORE / AFTER
Exterior
The aggressive body kit, the energetic stickers, and the 18-inch bespoke rims make the vehicle look fresh and sporty.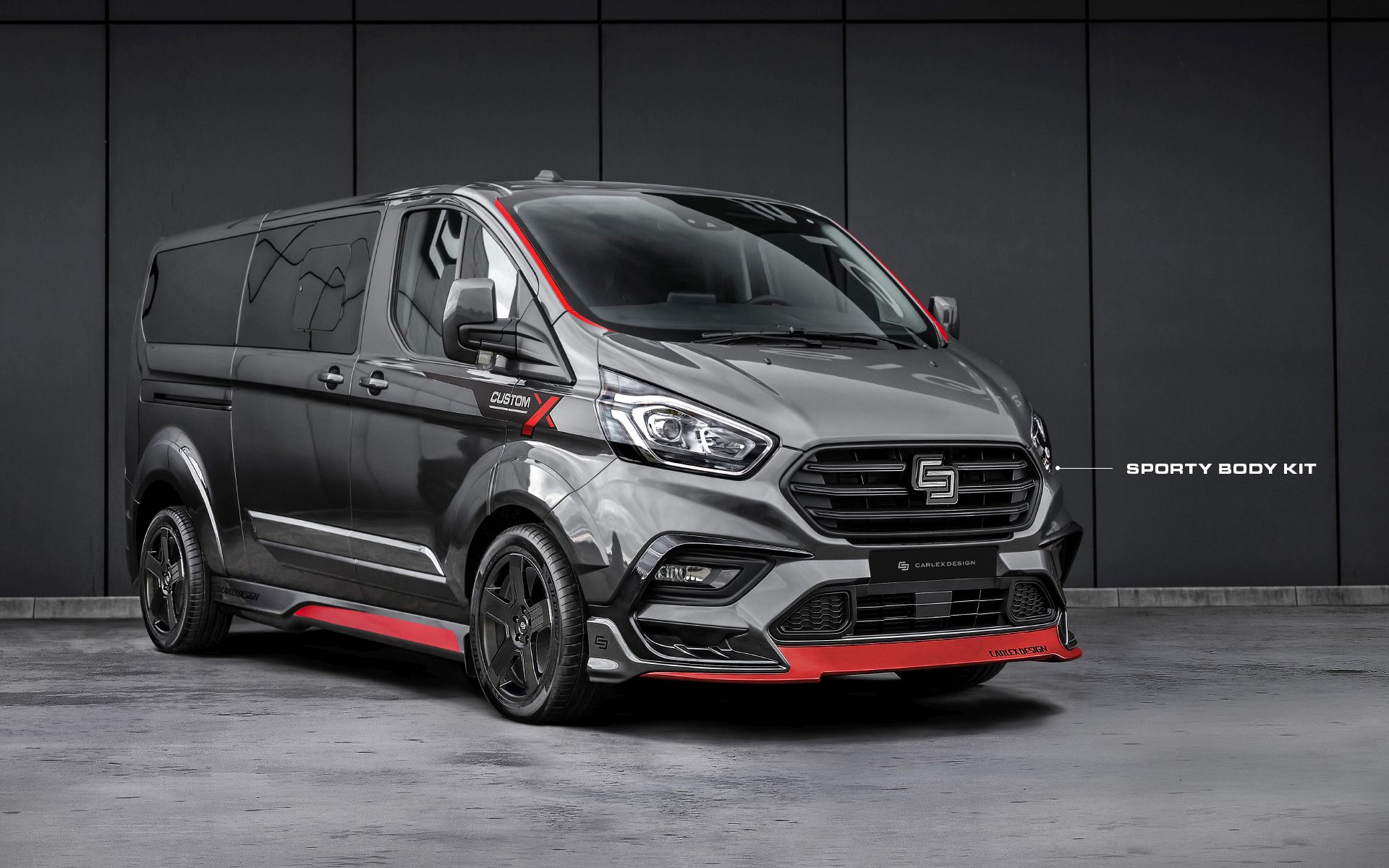 COLOURS
Interior
Turn even the longest journey into an exciting and comfortable experience! Our bespoke sporty seats, trimmed with black leather and Alcantara with red or grey inserts, give the car's interior a unique and sporty touch.
Steering wheel
The reshaped and sporty steering wheel, trimmed with plain and perforated leather and decorated with thread and an embossed motif, make the driving sheer pleasure.
SCOPE OF CONVERSION
Exterior
Body kit:
front bumper, front arch extensions, front door extensions, rear arch extensions, side sills, rear wing quarters, rear bumper1, black upper grille, lower grille, halogen light covers
Double exhaust endings
Styling package
Wheels:
18" Carlex Design alloy wheels (4 pcs.)
Michelin 255/45ZR18 Pilot Sport4 (4 spcs.) tyres
EXTERIOR EXTRA FEATURES
Westfalia towbar (detachable)
Westfalia towbar wires
V8 Exhaust Sound System:
application-controlled
Interior
Driver's cab:
Seats:
reshaped and sporty front seats trimmed with leather and Alcantara (2 or 1 + seater bench)
Leather door armrests
Steering wheel:
reshaped, trimmed with black leather, red or grey thread
Styled meter dials
Passenger compartment:
Seats:
trimmed with leather and Alcantara
Leather door armrests
Price from: 6,495.00 EUR NET
Available on 15 December.
Order or find out more
Call Us Now
talk to one of our Key Account Managers:
Adam Bakes
Countries:
Poland
Tomasz Krawczyk
Countries:
All other countries