ROBUST AND CHUNKY
THE FORD RANGER BY CARLEX DESIGN
Exterior
포드 레인저 칼렉스 디자인 버전은 오프로드 스타일과 거대한 차체, 스포티하고 편안한 인테리어가 결합된 튼튼하고 안정적인 포드 레인저 픽업의 완전히 새로운 버전입니다. 독특하게 변화한 외관은 신선하고 새로운 모습을 선사합니다. 터프하고 강인한 프론트 범퍼와 튼튼한 아치 익스텐션으로 인한 압도적 비주얼이 진정한 헤드 터너임을 증명합니다. 새로운 차체 키트는 Line-X로 코팅 처리되어 있어서 오프로드 주행 중 발생하는 손상을 줄여 줍니다. 차량의 측면과 후면에는 스타일링 스티커가 적용되어 한껏 멋을 더하고, 18인치 Carlex Design 휠이 장착됩니다.
Exterior styling
The front bumper has been partly painted black matt. Painting in the car's body colour is available as an option. The exterior styling of the car has been marked with a fancy sticker pack and Carlex Design emblems.
Exterior Accessories
Ford Ranger Limited Edition은 전동 리프팅 시스템이 적용된 Carlex Design Style-Rack 과 같은 오프로드 추가 옵션을 갖추고 있어서 3대의 자전거를 쉽고 편리하게 장착하고 운반할 수 있습니다.
Interior
다크하고 아늑한 새로운 인테리어는 스포티한 느낌을 줍니다. 앞 좌석은 오프로드 이음새와 함께 엠보싱 장식으로 처리되어 차량의 독특한 스타일을 강조합니다. 인테리어는 최고급 가죽과 이탈리안 알칸타라로 마감되었습니다.
Steering Wheel & mats
새롭게 가죽으로 장식된 스티어링 휠은 본질적 운전 본능을 일깨웁니다. 새로운 차원의 안정감과 편안함을 제공합니다. 또한 세련된 양각 맞춤형 고무 매트를 갖추고 있습니다.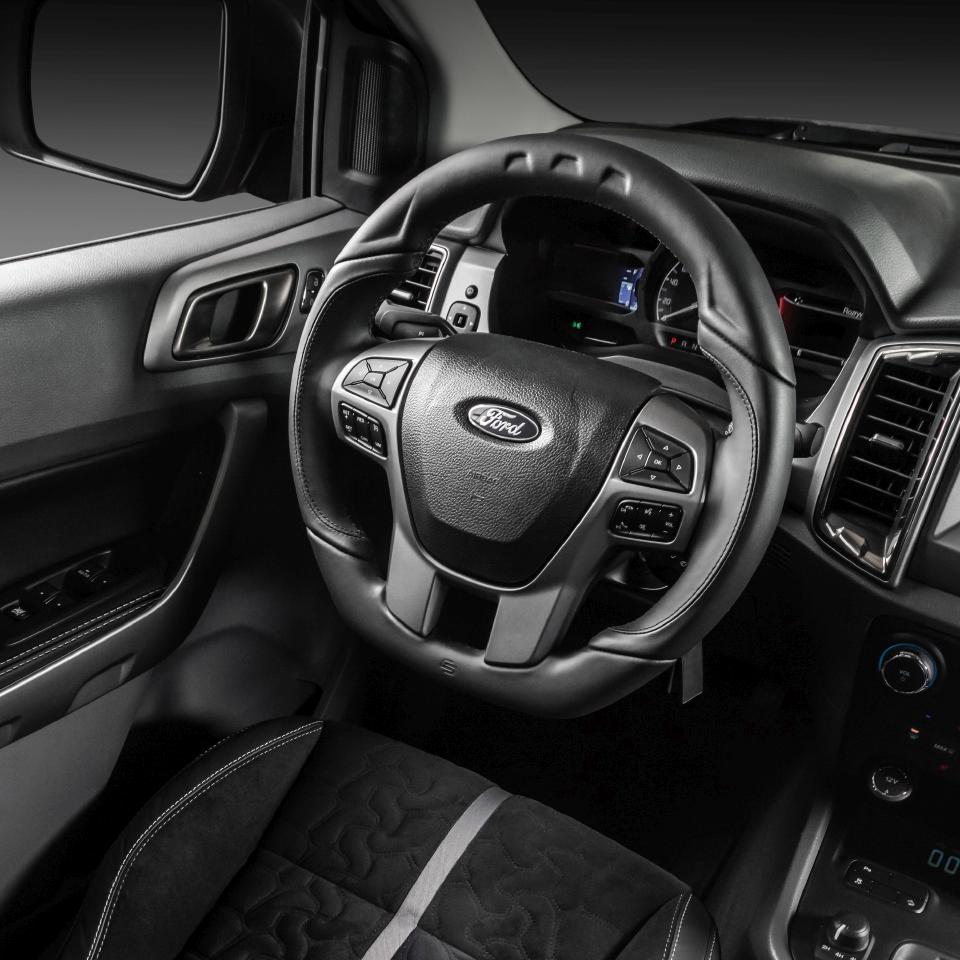 SCOPE OF CONVERSION
Ranger limited edition package
Body kit (coated with black Line-X):
front bumper with CD logo, front bumper covers (painted black matt), bonnet lip, front arch, extensions, rear arch extensions, grille mesh set, Carlex Design aluminium engine guard (unpainted)
Exterior styling package
Carlex Design Terrain side steps (coated with Line-X)
18" Carlex Design alloy rims (4 pcs.)
BF Goodrich All Terrain 265/60 R18 tyres (4 pcs.)
Reshaping of the front seats
Carlex Design Sport upholstery (front seats, rear seats)
Reshaping and leather-trimming of the steering wheel
Rubber floor mats
Limited edition plaque
Universal tyre repair kit (compressor + sealant)
Options
Rear spoiler (coated with black Line-X)
Change for BF Goodrich All Terrain 265/65 R18 tyres (4 pcs.)
Electronic speedometer correction tool (for 265/65 R18 tyres)
Tyre pressure sensors (4 pcs.)
Pedders Suspension Lift Kit (shock absorbers, coil springs, leaf springs)
Eibach Suspension Lift Kit (coil springs)
Painting of selected parts of the front bumper and covers to match the car body colour
Coating of wing mirrors with Line-X
Coating of rear bumper quarters with Line-X
Accessories
Carlex Design StyleRack electric bike carrier
rails for two bikes, black powder-coated, third brake light
Carlex Design StyleRack electric bike carrier
rails for two bikes, black powder-coated + selected parts coated with Line-X,
third brake light
Additional Thule 598 bike rail for StyleRack
Carlex Design StyleBar Extreme truck bed bar
black Line-X, C-channel fitting, third brake light
Lazer LED Standard lamps (compatible with StyleBar Extreme)
Lazer LED Elite lamps (compatible with StyleBar Extreme)
Tessera 4x4 roller shutter:
compatible with StyleBar Extreme and StyleRack bike carrier
Lazer roof LED lamp Linear series with brackets:
15750 lumens with ECE approved for on-road use
Lazer roof LED lamp Triple-R 24 with brackets:
24600 lumens, off-road use
V8 Exhaust Sound System (application-controlled)
Brink towbar with wires
Additional Services
Coating of the tonneau with Line-X
Coating of the body with Xpel paint protection (standard)
Price from: 12,995.00 EUR NET
Order or find out more
Call Us Now
talk to one of our Key Account Managers:
Tomasz Krawczyk